"I Used To Own An Austin-Healey" Part 2
By Loreen Wilhelmy
Monday, July 24, day 5 for us San Diego people, our arrival day, was very carefully orchestrated by the Boltons and others from Oregon. The 6 cars from California would meet the 4 cars from Oregon at 10 am in Hebo. (Now, if you hadnít been to Hebo before, you might just pass by and never notice it! But our eagle-eyed leaders, once again, spotted the Oregon group at the bend in the road.) It was almost big enough for 10 Healeys. With a group of 12 people, any stop meant that someone in the group had to visit a restroom. The only restroom, here, was in a bar next to our meeting point. Fortunately we were allowed to use the facilities without buying a drink!
The parade grew to 10-cars-long and our next stop (according to emails received from Bill Bolton before departure) was to be at the Shilo Inn in Astoria, where several members and cars from the Cascade Club (our hosts for Rendezvous 2000) would meet us for lunch and caravan to Ocean Shores in one long line. But when he reminded us of the lunch stop before leaving Hebo, he said that we would stop at the Red Lion Inn just south of the big bridge in Astoria. Those who were "listening" didnít question the change and went to the Red Lion. Those of us who were not "listening" went to the Shilo Inn for lunch. We all eventually arrived in Ocean Shores safely.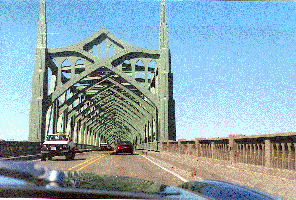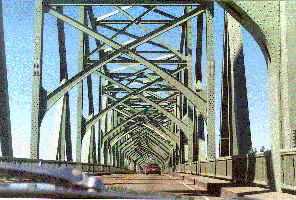 At its longest, the caravan was 20 cars long. When we and 2 other cars stopped for fuel the larger group went ahead. So, once again, I became navigator and in spite of the signage, we made it to Shilo Inn without a missed turn.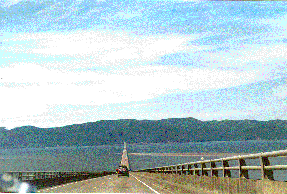 Before lunch, however, there was the Tillamook Cheese Factory stop. This was an unscheduled stop and too short to take a tour of the facility but an important stop nonetheless. A couple driving their BJ8 from Chico, CA saw all of the Healeys in the parking lot and stopped to meet many fellow travelers. (Their chance meeting Bill Bolton in the parking lot turned into a fortuitous stop for this couple. While driving home after Rendezvous 2000 they had engine trouble and wound up leaving their car with the Boltons in Oregon for repair and driving a rental car home to Chico.)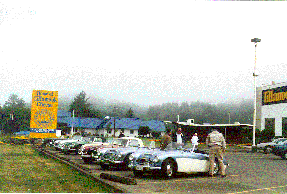 The caravan arrived at the Shilo Inn, Ocean Shores in a little disarray. But eventually we were all there and accounted for. The check-in process at the hotel was easy and the only unusual part of our registration was being given non-dissolving "paper" bands to wear on some exposed part of oneís body for identification. (One woman even wore it around her ankle). For 4-1/2 days, we all looked like escapees from a local hos-pital! On Friday morning in rather ceremonial style, many of us clipped off our bracelets.
One of the things we looked forward to most upon arrival in Ocean Shores was doing a little laundry (after 5 days on the road). It turned out that the hotel had a very nice and quite reasonably priced laundry facility. Each cost $0.75 - wash, dry, supplies. So after the Welcome Reception/Dessert Table/Sundae Bar on Monday evening I washed and dried all of our laundry in about 1.5 hours. (I learned from Shirley Albeckís many years experience at meets that the Laundry Facility can become oneís focal point, especially in cold or cool climates!)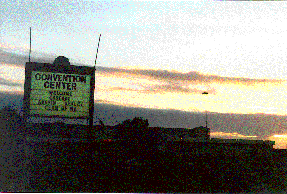 The "summer" weather in Ocean Shores, WA was about the same as a "bad winter day" in San Diego! [see photo W-21] Many days we woke to fog so thick that we couldnít see the seashore from our oceanfront room. The fog was heavy, the wind was brisk, and the high temperature on a good day was in the low 60s! The people who drove the rallye to the rain forest on Wednesday got rained on. Those of us who took the ferryboat to Westport got a little damp but mostly from ocean spray rather than rain.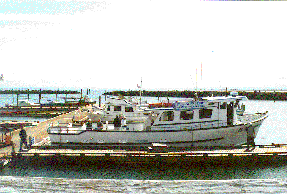 As if the gray weather wasnít depressing enough, Westportís decline from a once prosperous fishing village to a town with more For Lease and For Sale signs than open shops made for a sad day. (Locals tell of the battle over unlimited fishing by Native Americans in the area and regulated fishing by local fishermen. The supply of local fish has dwindled to the point that recreational fishing boats are being sold or are moving elsewhere. The absence of tourists and fishermen is depressing the economy of Westport.)
The Popular Choice Show on Tuesday was preceded with the Car Wash - hardly necessary in the drizzle! The show was well attended by both exhibitors and viewers. Every category of Healey was represented. Since our car is considered "a driver", we werenít as concerned about prizes. However, when there were only two cars in our class, Roland and I joked that weíd take Second Place. Then when there were three cars - weíd take Third Place. When the fourth car showed up, we laughed and quit thinking about competition. (Thatís why we were more surprised than anyone on Thursday evening when we were awarded Third Place!)
Is that popular choice of cars or people?
The Outdoor Picnic Buffet scheduled for Tuesday evening on the lawn of the Shilo Inn was moved into the banquet room because of impending rain. Our "picnic table" was shared with San Diegans Warren Voth, Gisela & Udo Putzke, John & Mary Schermerhorn (and their grandson -- John & Mary were visiting their daughter and her family in the area), and with other Californians Kaelyn, Donna and Roger Hawk, and Gary Anderson. The Alumni of West Coast Meets over the past 25 years were recognized and saluted. Then the awards for the Ladies Funkhana and Menís Creeper Race were presented.
Wednesday evening the winners of the Auto-Cross, Mini-Golf, Photo/Arts/Crafts/West Coast Memorabilia Displays were presented prior to the long and lively auction of familiar and unfamiliar, favorite and unique items. One auction item, donated by the Austin-Healey Club of San Diego, a Donald M. Healey commemorative plate was carried back to San Diego by one of its members! (to match the other plate do-nated in June to the California Healey Week celebration in Big Bear purchased at the silent auction and returned to San Diego.) Those plates belong in San Diego, no matter how far we away we donate them, they come "home".
Throughout the week, self-guided driving tours of the area, a mini-golf tournament, a scavenger hunt, craft activities and demonstrations, and go-karts were available in addition to Tech Sessions, Exhibits, Arts & Crafts. Special events such as Concours Judging on Tuesday morning, Super Auto-Cross on Wednesday were also very popular attractions.
Thursday was the transition day for most people - formal and informal planning meeting for future Meets, alternate routes home, a Poker Rally and in the evening the all-important Awards Banquet. The banquet food was especially good and varied. There was something for everyone. The Awards Ceremony recognized Alumni, Concours Awards, and Popular Choice Awards. This was followed by a raffle to give away more wonderful gifts. Joyce Toms and her committee were recognized for the outstanding Meet and organization that it took to put it on.